Application of "R" Principles to enhance the efficiency of water usage in construction sites – Built Environment Project and Asset Management
by Lalith De Silva, K.G.A.S. Waidyasekara, Raufdeen Rameezdeen
Abstract
Purpose
Water conservationists have been promoting a hierarchy of measures to preserve water resources in the face of decreasing freshwater availability in the world. However, applicability of water hierarchy to the construction industry is yet to be investigated. To fill this knowledge gap, the purpose of this paper is to investigate water usage, water use efficiency, and conservation measures relevant to the construction operations.
Design/methodology/approach
A triangulation-based mixed-methods approach was adopted for the collection and analysis of data. First, four case studies were carried out to explore the current practices and the possibilities of applying the water hierarchy to the construction operations. This was followed by a questionnaire survey, administered among construction professionals to obtain their views and to verify the findings of case studies.
Findings
Strategies such as reuse and recycling were found to be less applicable and least preferred by the construction professionals compared to reduce, replace, and eliminate. Based on the research findings, three enabling measures, namely, regulation, responsibility, and reward, were found to enhance the effectiveness of these conservation strategies.
Practical implications
Knowledge on preferences of different water conservation measures among the construction professionals and their effectiveness on construction site could help the construction companies to device strategies to mitigate water wastage and enhance water use efficiency. It could also help policy-makers to develop guidelines that would have higher probability of acceptance among construction stakeholders.
Originality/value
The study proposes an extended water hierarchy (3R.6R) by integrating three enabling measures discussed above for the construction project sites.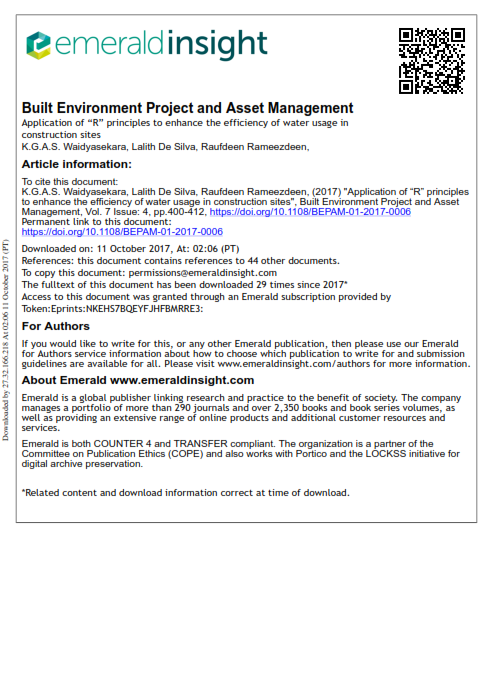 For More Information : http://www.emeraldinsight.com/doi/full/10.1108/BEPAM-01-2017-0006